Windshield Repair and Windshield Replacement For When Life Has You On the Run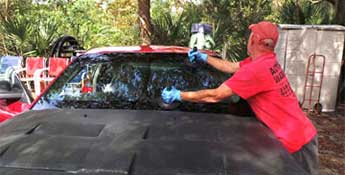 Windshield repair or replacement is not one of those issues you can head off with a little preventative maintenance. What is often worse is windshield cracks, or windshield damage is a frustrating issue that never seems to happen at a "convenient" time.
We seldom think about the functions of a windshield, unless we are dealing with a chip, crack or broken one. However, your windshield in not just a glass covering a hole on the front of your vehicle. Your windshield is a critical component of your vehicle that:
Keeps wind, rain, insects and debris out
Provides structural support of your vehicle's roof
Prevents airborne objects from striking passengers in the event of an accident
Plays a critical role in the proper functioning of the passenger side airbag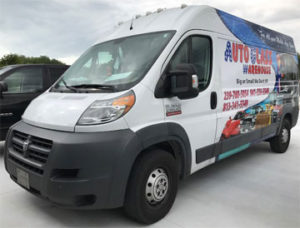 Windshields play an important role in your vehicle's safety and the safety of you and your passengers. Don't let a small chip go un-repaired! But if you do, we can replace your windshield back to factory specs.  At Auto Glass Warehouse we offer comprehensive windshield replacement and repair on most any vehicle. We also offer replacements of back glass and side windows on any vehicle.
The Convenience of Mobile Windshield Repair or Windshield Replacement
FREE Mobile Service! We make auto glass repairs and windshield replacements convenient. We come to you at home, work or play. Our technicians travel anywhere your vehicle may be to service all your auto glass needs at no additional cost.
All Auto Glass Warehouse technicians are NGA certified with years of experience in mobile auto glass repair and windshield replacement. In fact, our employee Dan Boehmer is the inventor of the Rolladeck Windshield Setting System. Our team knows windshields and offers repairs or replacements on any type or age of vehicle including:
Car windshield repair and replacement
Back glass, side glass and vent glass
RV windshield repair and replacement
Truck windshield repair and replacement
Farm equipment windshield repair and replacement
Heavy equipment windshield repair and replacement
Construction vehicle windshield repair and replacement
Our Mobile Windshield Repair and Windshield Replacement Cities Served
Auto Glass Warehouse mobile service technicians live and work throughout all of Southwest Florida from Brandon south to Naples. We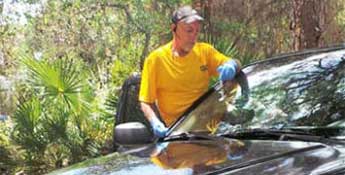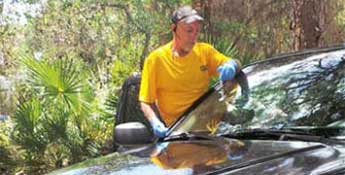 maintain conveniently located warehouses that have access to hundreds of windshield s from top rated suppliers. Upon request, we can also order factory glass.
For Fast & "Free Mobile" Windshield Repair and Windshield Replacement Contact Auto Glass Warehouse Today!
Every Auto Glass Warehouse automotive window replacement or repair or windshield comes with a lifetime warranty against defects in materials and workmanship. We are not happy until you are happy. For a FREE Quote complete our online request form or for the fastest response call any of the closest Auto Glass Warehouse locations today!
Save